Testimonials About Our Halesite Veterinarians
Read what our patients are saying about us below.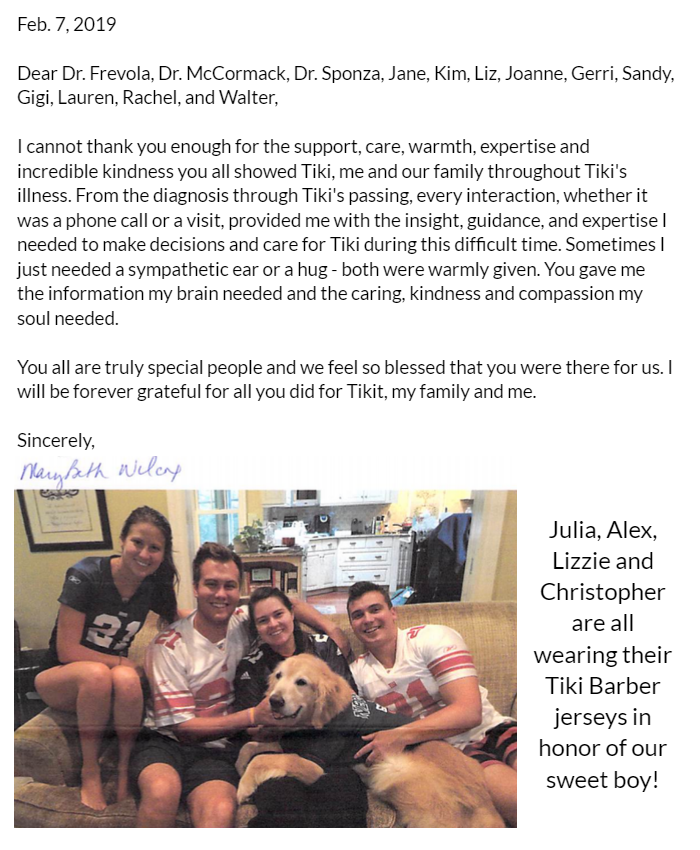 In May of 1985, when Dr. Frevola opened his new practice in Halesite, our yellow lab puppy Chester was the first patient to walk through the door. Upon meeting Dr. Frevola, we sensed the knowledge, experience and sensitivity of an outstanding veterinarian. Dr. Frevola treated Chester for 11 years. During those years our dear Chester had several bouts of cancer, one of which could have been fatal. Dr. Frevola researched the type of cancer and found an inexpensive treatment which ultimately saved Chester's life.
We now have five cats and Dr. Frevola remains our veterinarian to this day. When any of our animals are in need, we are on the phone to him. Each year, Dr. Frevola and his competent staff at Harborside care for our pets. After twenty-four years, we still believe Dr. Frevola to be the kindest most competent and knowledgeable vet on Long Island, as well as a good friend.
- Paula and Joe M.
Very good RDVMs. This is the perfect general practice. Experienced technicians. Knowledgable doctors and helpful receptionists.
- Rebecca B.
I came to know Dr. Frevola and the staff of Harborside Veterinary Hospital through the adoption of my mutt from the pound. He had established a cooperative relationship with the town by spaying and neutering the animals in their care and Penny Lane was one of those dogs. What good fortune that was for me - and for her! Like striking gold! Penny, it turned out, had cancer and bringing her back to him for an examination after her spaying, he diagnosed it and treated her - and cured her. She lived 11 1/2 more years after that, until a different form of cancer took her in her old age, but before it did, Dr. Sponza helped extend Penny's life again with a quick diagnosis and skillful surgery.
For over 13 years, Harborside's talented and knowledgeable team of veterinarians and veterinary technicians have cared for my beloved animal friends. Their advice has been unfailingly good and their care and treatment of my pets has been impeccable. Even to the smallest details, like when several of the vet techs took the time to groom and brush Penny's thick coat after her final surgery, and even cleaned her teeth - despite knowing she would not be around much longer. Or when Dr. Chen and two of his assistants stayed until after 11 p.m. when my dog Sheba needed emergency surgery. Or the times when I was wrestling with my dog Samsons's imminent demise and stopped by without an appointment needing to talk and found each of the vets willing to take the time needed to advise and reassure me. Or the house calls they made at final, desperate moments when they needed to ease my dog friends from this life that held only pain for them.
The diagnostic and treatment skill of Drs. Frevola, Chen and Sponza are excellent and they are among the most caring and kindhearted people that I know. Their efforts on behalf of my animals have always impressed me and their knowledge, professionalism and compassion have enabled me to have unfailing confidence in them. Harborside's team of veterinarians and veterinary technicians have provided my pets with solid and dependable medical care over all the years I have known them and they have provided me with helpful, practical advice and guidance on the best way to care for them as my pets and family members. I am indeed very grateful and have recommended them to so many friends, who have then told me that they have also recommended Harborside Veterinary Hospital to their friends. What better endorsement could there be than repeated satisfaction and happiness?
- Michele Krause
My wife and I had the unfortunate responsibility of meeting with you yesterday for our last visit with our miniature poodle, Fifel. Harborside has been caring for Fifel since he first joined our family some 15 years ago.
Fifel had been struggling with issues of age for the past year or so and most recently has been falling - up the stairs, down the stairs, off the furniture, and even often losing his balance while eating and drinking on our ceramic tile kitchen floor (despite the sort of rubberized/padded placemats which my wife has placed around his dishes to assist his footing). He has also been incontinent for the past six months or so, unable to control his bodily functions.
In short, I just want to thank you (and your assistant) for your sensitivity in helping us euthanize Fifel. It was very hard for us to do this and your caring, kindness and the dignity with which you sort of moved us through the process are very much appreciated.
Please know that while you helped us to care for Fifel in good times with his necessary medical needs, we are especially appreciative of your supportive and dignified assistance with his passing. We are forever grateful.
Sincerely,
- Hap Hoffman
We want to thank you for the compassion you all shared with Toby and us. Your dedication and knowledge helped extend Toby's life beyond his first diagnosis so that we could fully enjoy his golden years. Toby was part of our family. His personality was unparalleled by any other pet we have ever encountered.
During Toby's last year, our regular visits helped Toby become accustomed to your office and thus you became part of Toby's life and family. You took care of him as if he was one of your own pets and for that we are also so very grateful to you.
From our family to yours, THANK YOU!
- The Borg Family