Meet our Veterinarians
Dr. Frevola, Dr. Sponza, Dr. McCormack, and Dr. England are committed to providing excellence in veterinary care and stand out as leading veterinarians in Halesite. The doctors use the latest in veterinary techniques to provide your pets with exceptional care. Read more about our Halesite veterinarians below: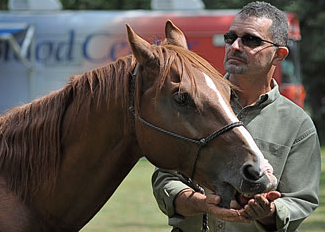 James Frevola, DVM
Dr. James Frevola opened Harborside Veterinary Hospital in 1985 and has cared for pets in the Long Island area for more than two decades. A native of Huntington, Dr. Frevola attended the University of New York at Oneonta and received his Bachelor's Degree in Biology in 1974. He continued his education at the University of Parma College of Veterinary Medicine in Italy and he was awarded his Doctorate of Veterinary Medicine in 1980. He also completed an internship at the Kansas State University School of Veterinary Medicine. His professional interests include internal medicine, orthopedic surgery, and ultrasound.
Dr. Frevola is committed to continuing education and has received numerous continuing education certificates, including AO-ASIF principles of small animal fracture management (basic and advanced), Imex external fixation and eye surgery. He frequently attends continuing education courses in ultrasound and radiology, as well as the Atlantic Coast Veterinary Conference each year.
He and his wife, Carol, have three children, Garrett, Courtney, and Rachael. The family's four-legged companions include Gus, a Shiloh Shepherd, Lupo, a Miniature Pinscher, two cats, Bear and Jasmine, and two-Quarter Horses, Frog and Red. When he is not caring for the pets at the hospital he enjoys competing with his horse, Red, in team penning, ranch sorting and mounted shooting.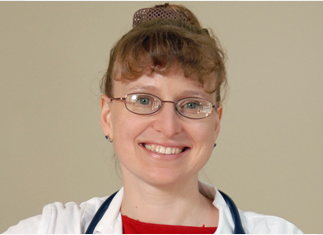 Laurie Sponza, VMD
A general practitioner at Harborside Veterinary Hospital since 2004, Dr. Laurie Sponza hails from Holtsville and attended Cornell University where she received her Bachelor's Degrees in Chemical Engineering and Biology in 1992. She continued her education at the University of Pennsylvania School of Veterinary Medicine and was awarded her Doctorate of Veterinary Medicine in 1996. Dr. Sponza is certified in the PennHIP radiographic procedure and has received a certificate in forensic toxicology from the University of Florida College of Veterinary Medicine in 2003. At home, Dr. Sponza enjoys the companionship of a number of cats. Her hobbies include gardening, cooking and riding her SV650s.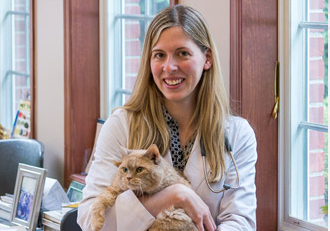 Tracy McCormack, DVM
Dr. McCormack earned her B.S. from Drexel University in Philadelphia and her DVM from the Ohio State University in Columbus, Ohio. Dr. McCormack currently lives in Huntington, NY with her husband, Ryan, and their two children, Molly and Elliot. They have three cats Frank, Kiki, and Lula. In her free time, she enjoys exploring the city and its many cuisines, seeing live music and traveling. In the winter you can find her on a mountain snowboarding.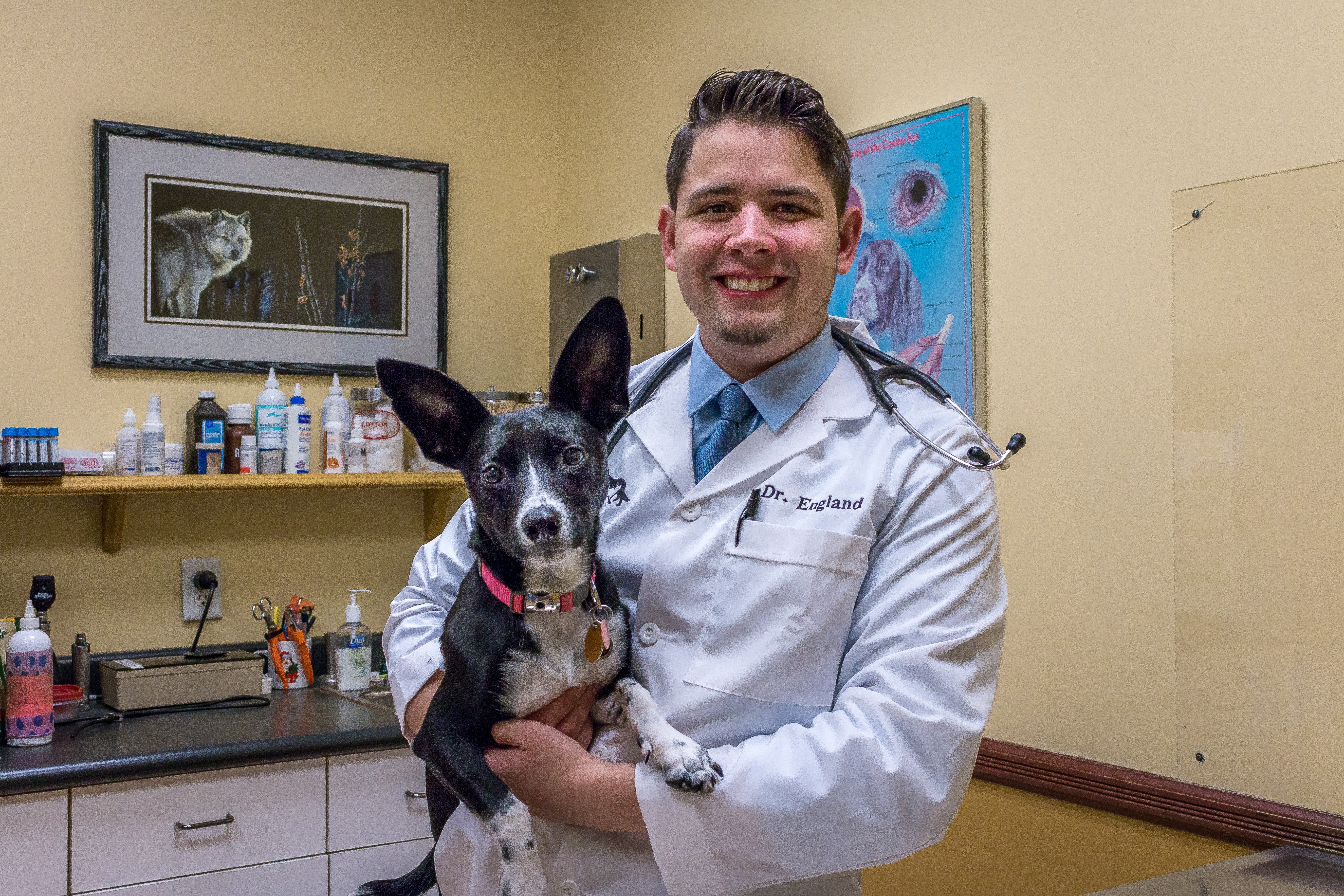 Brandon England, DVM
Dr. Brandon England was born and raised in Bangor, Maine. He attended the University of Maine in Orono for his undergraduate degree and majored in pre-veterinary science. He continued his education at the Atlantic Veterinary College of Prince Edward Island where he received his Doctorate of Veterinary Medicine. After graduating in 2015, he remained at AVC for a small animal internship where he rotated through many services such as internal medicine, general and emergency surgery, cardiology and ophthalmology. Following his internship, he stayed in PEI to practice at a small animal clinic before moving to New York. Dr. England enjoys all things veterinary medicine and has a special interest in surgery. Outside of being a veterinarian, he enjoys snowboarding, cooking and spending time with his fiancee, who he met in veterinary school. Together they have four cats and one dog.